Der Spiegels polarizing cover art intended as response to seriously endangered principles of democracy and freedom of the press, editor-in-chief said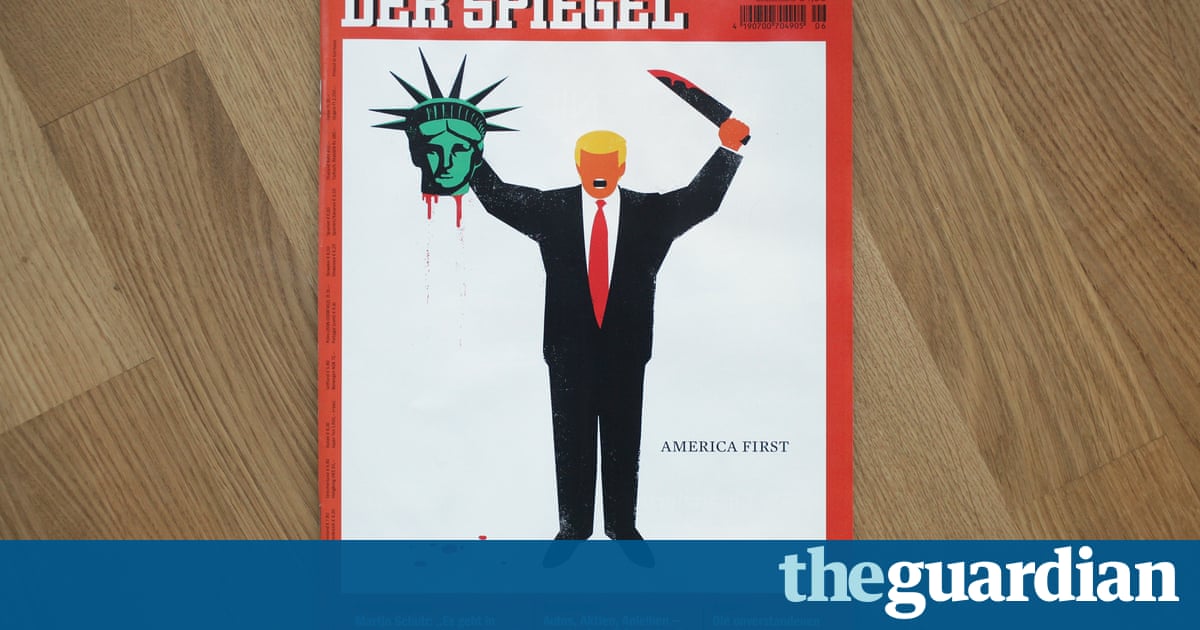 The editor-in-chief of Der Spiegel said on Sunday a front cover illustration of Donald Trump beheading the Statue of Liberty, which split opinion at home and abroad, was a response by the German magazine to threats against democracy.
Published on Saturday, the cover depicts a cartoon figure of the US president with a bloodied knife in one hand and the statues head, dripping with blood, in the other. It carries the caption: America First.
It followed a series of attacks on Berlins policies by Trump and his aides that have marked a rapid deterioration in German relations with the US.
Der Spiegel does not want to provoke anybody, editor-in-chief Klaus Brinkbaeumer told Reuters after the cover set off a debate on Twitter and in German and international media, adding he was surprised by the impact of the illustration.
We want to show what this is about, its about democracy, its about freedom, its about freedom of the press, freedom of justice and all that is seriously endangered, he said. So we are defending democracy Are these serious times? Yes they are.
Alexander Graf Lambsdorff, a member of Germanys Free Democrats (FDP) and vice-president of the European Parliament, described the cover as tasteless.
Die Welt said it damages journalism while another German daily, the Frankfurter Allgemeine Zeitung, said it was exactly what Trump needs a distorted image of him, which he can use to work more on his distorted image of the press.
Karl-Georg Wellmann, a lawmaker for Chancellor Angela Merkels CDU conservatives, told mass-selling daily Bild: I urge everyone to calm down and to handle this with reason, rather than gut feeling.
German chancellor Angela Merkel was the go-to European ally for President Obama, who praised her as an outstanding partner.
Trump has said Merkel made a catastrophic mistake with her open-door migration policy, and his top trade adviser last week accused Germany of using a grossly undervalued euro to gain advantage over the US and its European partners.
Read more: https://www.theguardian.com/world/2017/feb/05/germany-der-spiegel-cover-trump-statue-of-liberty